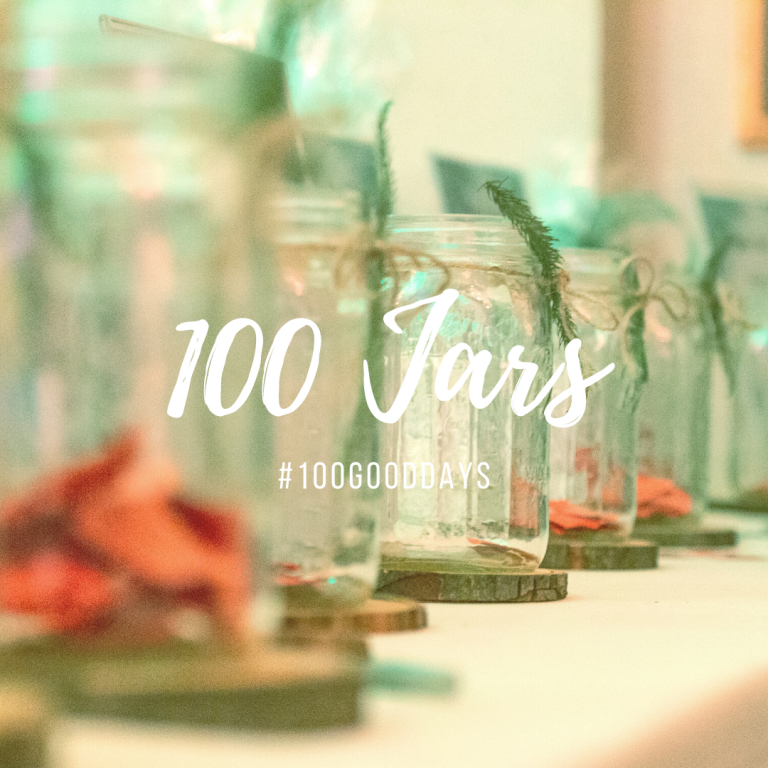 I am up for a challenge
2020 is already a year for the books and Q4 is still in front of us. With that in mind, when I found Brooke Lark's offering of 100 Good Days on Instagram, I immediately knew it was just what I needed. I needed to take back 2020 and to find some joy in my days. (You can read more about the challenge and sign up HERE.)
In addition to gorgeous journaling pages, Lark is challenging participants to come up with a project. It can be something to do everyday for 100 days or something the can be accomplished within 100 days. I'm not really banking on being sufficiently consistent to do something everyday for more than 3 months. Instead, I am opting for a bigger project.
I want to put up 100 mason jars in 100 days. Mason jars full of food.
Why did I pick this project? Because canning makes me happy and having a pantry full of food makes me feel ready for anything. I will feel ready for anything 2021 can throw at me.
100 Mason Jars in 100 Days
Because this is a project, I feel like I need to set rules. However, because I want it to be joyful the rules are going to be pretty loose.
Here is what I will do:
I will put food in at least 100 jars for at least 100 days
I will use different kinds of food preservation methods. Basically, I will put up food that makes me happy.
I will try new recipes because new recipes are fun!
I will share with you what I put up. This will mostly be on Instagram so be sure to follow me over there.
Here is what I won't do:
I won't put up food that I won't eat. Food waste is not the point.
I won't clean my kitchen to take pretty pictures.
I won't put things in jars everyday. There will be 100 jars at the end, but consistency is not my strong suit
Here is where I will update you
Below is a list that I will fill in as I go. I will list what I put in each of the jars. Keep in mind there will be lots of duplicates and that's okay! 😉
| | | |
| --- | --- | --- |
| Jar # | Jars size and contents | Date filled |
| 1 | 1 qt. white grape juice | 9/26/20 |
| 2 | 1 qt. white grape juice | 9/26/20 |
| 3 | 1 qt. white grape juice | 9/26/20 |
| 4 | 1 qt. white grape juice | 9/26/20 |
| 5 | 1 qt. white grape juice | 9/26/20 |
| 6 | 1 qt. white grape juice | 9/26/20 |
| 7 | 1 qt. white grape juice | 9/26/20 |
| 8 | 1 qt. white grape juice | 9/26/20 |
| 9 | 1 qt. white grape juice | 9/26/20 |
| 10 | 1 qt. white grape juice | 9/26/20 |
| 11 | 1 pt. apple pepper jelly | 9/26/20 |
| 12 | 1 pt. apple pepper jelly | 9/26/20 |
| 13 | 1 half pt. apple pepper jelly | 9/26/20 |
| 14 | 1 half pt. apple pepper jelly | 9/26/20 |
| 15 | 1 half pt. apple pepper jelly | 9/26/20 |
| 16 | 1 half pt. apple pepper jelly | 9/26/20 |
| 17 | 1 half pt. apple pepper jelly | 9/26/20 |
| 18 | 1 half pt. apple pepper jelly | 9/26/20 |
| 19 | 1 half pt. apple pepper jelly | 9/26/20 |
| 20 | 1 half pt. apple pepper jelly | 9/26/20 |
| 21 | 1 half pt. apple pepper jelly | 9/26/20 |
| 22 | 1 half pt. apple pepper jelly | 9/26/20 |
| 23 | 1 half pt. apple pepper jelly | 9/26/20 |
| 24 | 1 half pt. apple pepper jelly | 9/26/20 |
| 25 | 1 half pt. apple pepper jelly | 9/26/20 |
| 26 | 1 half pt. of cowboy candy | 10/1/20 |
| 27 | 1 half gallon of concord grape juice | 10/3/20 |
| 28 | 1 half gallon of concord grape juice | 10/3/20 |
| 29 | 1 quart of concord grape juice | 10/3/20 |
| 30 | 1 quart of concord grape juice | 10/3/20 |
| 31 | 1 quart of concord grape juice | 10/3/20 |
| 32 | 1 quart of concord grape juice | 10/3/20 |
| 33 | 1 quart of instant chicken noodle soup | 10/3/20 |
| 34 | 1 quart of instant chicken noodle soup | 10/3/20 |
| 35 | 1 quart of instant chicken noodle soup | 10/3/20 |
| 36 | 1 quart of instant chicken noodle soup | 10/3/20 |
| 37 | 1 quart of instant chicken noodle soup | 10/3/20 |
| 38 | 1 pint of instant barley soup | 10/4/20 |
| 39 | 1 pint of instant barley soup | 10/4/20 |
| 40 | 1 pint of instant barley soup | 10/4/20 |
| 41 | 1 quart of picked red onions | 10/23/20 |
| 42 | 1 pint of salsa | 10/24/20 |
| 43 | 1 pint of salsa | 10/24/20 |
| 44 | 1 pint of salsa | 10/24/20 |
| 45 | 1 pint of salsa | 10/24/20 |
| 46 | 1 pint of salsa | 10/24/20 |
| 47 | 1 pint of salsa | 10/24/20 |
| 48 | 1 pint of salsa | 10/24/20 |
| 49 | 1 pint of salsa | 10/24/20 |
| 50 | 1 pint of salsa | 10/24/20 |
| 51 | 1 pint of salsa | 10/24/20 |
| 52 | 1 pint of salsa | 10/24/20 |
| 53 | 1 pint of salsa | 10/24/20 |
| 54 | 1 pint of salsa | 10/24/20 |
| 55 | 1 pint of salsa | 10/24/20 |
| 56 | 1 pint of salsa | 10/24/20 |
| 57 | 1 pint of salsa | 10/24/20 |
| 58 | 1 pint of salsa | 10/24/20 |
| 59 | 1 pint of salsa | 10/24/20 |
| 60 | 1 pint of salsa | 10/24/20 |
| 61 | 1 half pint of salsa | 10/24/20 |
| 62 | 1 pint of vanilla extract | 10/25/20 |
| 63 | 1 pint of vanilla extract | 10/25/20 |
| 64 | 1 quarter pint of orange extract | 10/31/20 |
| 65 | 1 pint of chocolate extract | 10/31/20 |
| 66 | 1 pint of chocolate extract | 10/31/20 |
| 67 | 1 pint of ranch seasoning | 11/01/20 |
| 68 | 1 pint of ranch seasoning | 11/01/20 |
| 69 | 1 quart of turkey broth | 11/27/20 |
| 70 | 1 quart of turkey broth | 11/27/20 |
| 71 | 1 quart of turkey broth | 11/27/20 |
| 72 | 1 quart of turkey broth | 11/27/20 |
| 73 | 1 quart of turkey broth | 11/27/20 |
| 74 | 1 quart of turkey broth | 11/27/20 |
| 75 | 1 quart of ginger cookie mix | 12/21/20 |
| 76 | 1 quart of ginger cookie mix | 12/21/20 |
| 77 | 1 quart of Asian chicken salad | 12/27/20 |
| 78 | 1 quart of Asian chicken salad | 12/27/20 |
| 79 | 1 quart of Asian chicken salad | 12/27/20 |
| 80 | 1 quart of Asian chicken salad | 12/27/20 |
| 81 | 1 quart of white chocolate cranberry oatmeal bars | 12/28/20 |
| 82 | 1 quart of white chocolate cranberry oatmeal bars | 12/28/20 |
| 83 | 1 quart of black bean soup | 1/24/21 |
| 84 | 1 quart of lemon poppy seed waffles | 1/24/21 |
| 85 | 1 quart of Skittles | 1/29/21 |
| 86 | 1 pint Tikka Masala | 1/30/21 |
| 87 | 1 pint Tikka Masala | 1/30/21 |
| 88 | 1 pint Tikka Masala | 1/30/21 |
| 89 | 1 pint Tikka Masala | 1/30/21 |
| 90 | 1 pint Tikka Masala | 1/30/21 |
| 91 | 1 pint Tikka Masala | 1/30/21 |
| 92 | 1 pint Tikka Masala | 1/30/21 |
| 93 | 1 pint Hamburger Helper | 1/31/21 |
| 94 | 1 pint Hamburger Helper | 1/31/21 |
| 95 | 1 pint Hamburger Helper | 1/31/21 |
| 96 | 1 pint Hamburger Helper | 1/31/21 |
| 97 | 1 pint Hamburger Helper | 1/31/21 |
| 98 | | |
| 99 | | |
| 100 | | |