It's amazing to see how much our world is changing in the face of a global pandemic.
From social distancing and remote work to supply chain interruptions and toilet paper flying off the shelves. We recognize that each one of us has been affected in some way.
While our family business has been impacted, we are doing well and hope you are too. We want to affirm our commitment to the health and safety of our customers and communities as we all navigate this brave new world.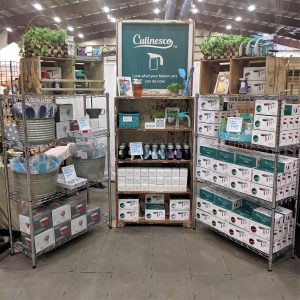 Inventory
Back in December 2019, we placed an order with our factory in China for a new shipment of Ergo Spouts®. The factory was originally set to begin production in the first week of February 2020. Due to the COVID-19 outbreak and the quarantines that were implemented, our order was delayed approximately a month.
The good news is that we still have Ergo Spouts® in stock. The bad news is that we are out of the Vintage Blue color. However, the new shipment should arrive sometime near the end of May 2020.
Upcoming Events
Several of our upcoming events have either been cancelled or rescheduled. While this is disappointing and certainly has an impact on our sales, we understand the need to avoid large groups and help "flatten the curve."
You can see changes to calendar over on our Events Page.

Shipping
Even though we won't be selling at in person events, we can still ship all online orders! We have our own personal warehouse (a.k.a. our garage) which we can keep clean an sanitized! Because of this orders are typically shipped in under 24 hours!
Cooking From Home
Like many of you, we are making most if not all of our meals from home these days. We have been using our Pantry and Meal Planning Worksheets to organize our meals based upon what we have on hand. If you haven't had a chance to try these out, now is a great time! Plus, they are FREE!
We are also using our Ergo Spouts® more! Pancakes with syrup and spaghetti with sauce are a few things on the menu that can be made with pantry items. We'd love to know how your are using your Ergo Spout® at home. Shoot us an email at [email protected] to let us know!
You can also find recipes for your Ergo Spout® in our e-Cookbook or HERE on our blog.