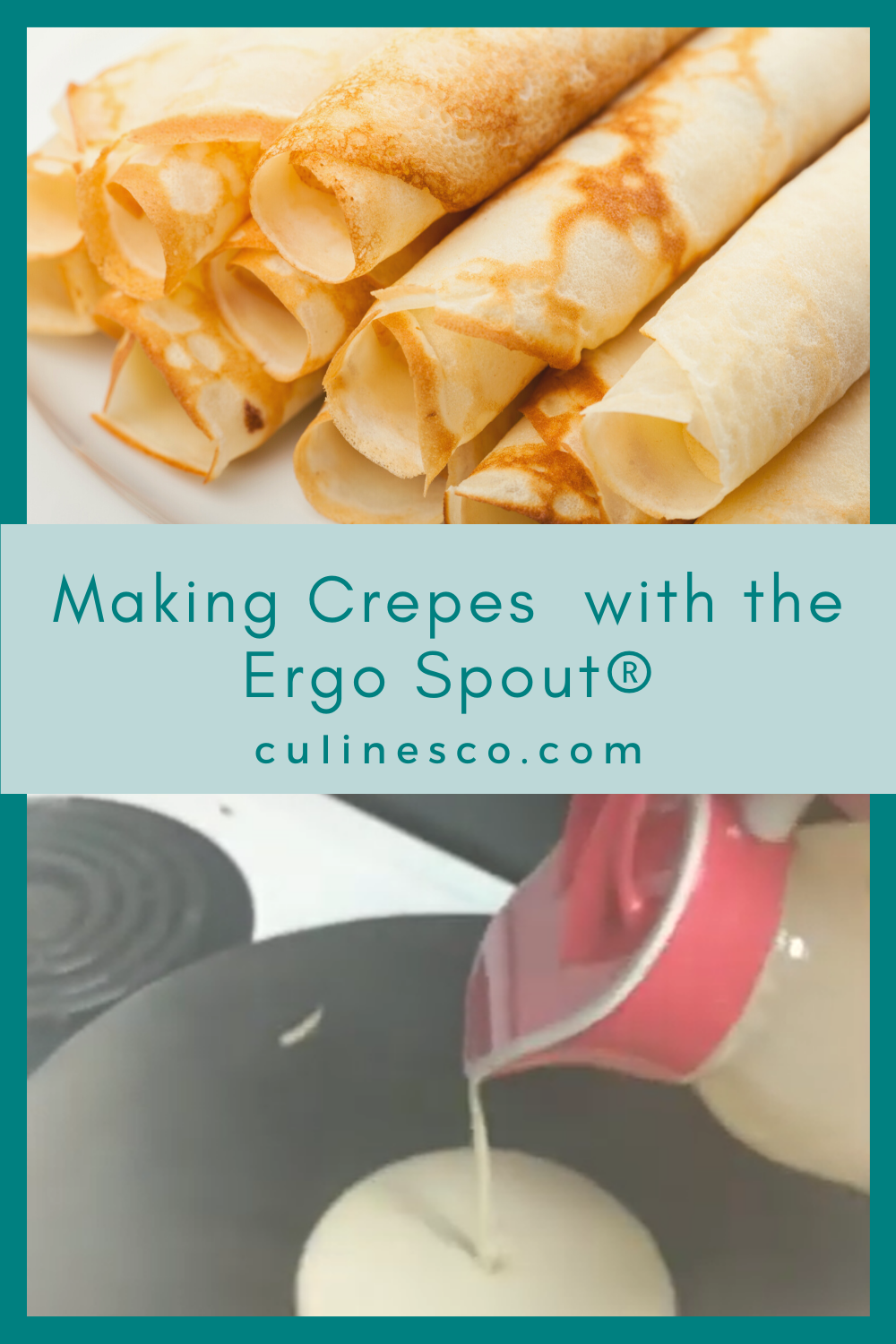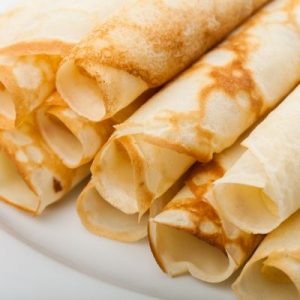 Crepes are light and thin pancakes that can be used for both sweet and savory dishes. Though commonly associated with Belgium, the crepe actually originates from France. It is said that when serving porridge, some would spill out and sizzle on the hot skillet, the result was a thin but tasty crepe! It is such a special food that France even has 'The Day of Crepes' on February 2nd, often celebrated by having crepes for dinner.
How to make crepe batter
The basic crepe batter is really simple. You will need the following:
1 ¼ cup all purpose flour
1 ⅓ cup milk
3 large eggs
¼ teaspoon salt
4 tablespoons melted butter
1 teaspoon vanilla
Blend all the ingredients together into a thin batter. Use an immersion or stand blender if you have one – you will get a super silky consistency that way.
Allow the batter to rest in the refrigerator for at least 30 minutes before beginning to make the crepes. This ensures all the bubbles have dissipated and allows some gluten to develop. This resting is what gives cooked crepes a soft and elastic texture. We recommend using a mason jar to hold the batter while resting.
How to cook crepes
Remove your batter from the fridge and fit the mason jar with an Ergo Spout®. The Ergo Spout® will make pouring the batter into a pan easy and spill-free. With the flip top cover you can easily control the amount of batter that goes into the pan. You can also put any unused batter back in the fridge for another day. Once your batter is ready, you can pick either of the methods below to make the crepes.
Traditional Method: using a crepe pan and a crepe spreader

A crepe pan is a flat pan with no edges. If you are in the market for a good one, we recommend the Crepe Pro pan. It comes in several sizes and works well. You will also need a crepe spreader to go with your crepe pan.
A crepe spreader is a special T-shaped tool used to spread and shape crepes. To make crepes this way, place the crepe pan a medium heat. Pour two to four tablespoons of batter into the center of the pan. Place the spreader (so that the T is upside down) directly in the center of the batter puddle. Begin to twist the spreader so that the batter begins to move out into a thin circle. Continue to spread until you have reached the desired thickness.
Watch the crepe closely. As with normal pancakes, as soon as you see little bubbles popping up all around you can flip the crepe. It shouldn't take more than 45 seconds on each side because it is so thin. The crepe should have a golden-brown lacy color when you flip.
Everyday Method: a Non-Stick Skillet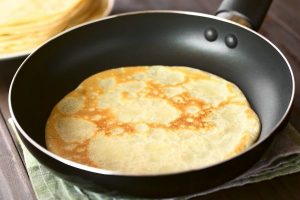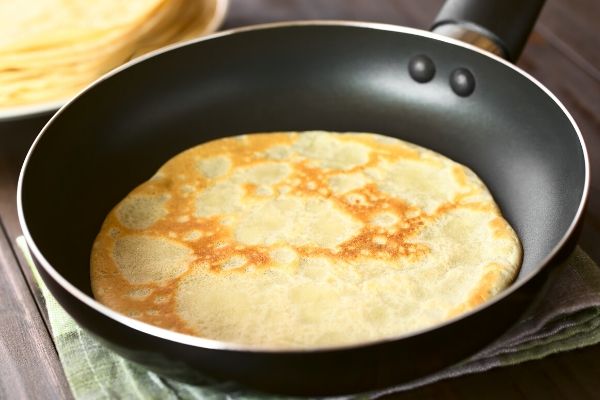 If you don't have a crepe pan and a crepes spreader, don't worry! Just use a non-stick pan and pour two tablespoons of batter into the center. Pick up the pan and tilt it around, slowly, to encourage the batter to spread into a thin circle. Cook and flip, just like with the crepe pan.
How to serve crepes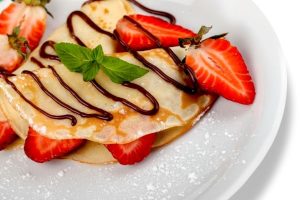 The list of fillings are endless. Sweet or savory, these delicious doilies can take it all! Traditionally, crepes are filled and rolled up like a tortilla or folded in quarters. Listed below are some of delicious fillings to try out:
Nutella and strawberries
Bananas and cream
Honey, lemon and cinnamon sugar
Poached eggs, ham and hollandaise
Scrambled eggs and bacon
Cream cheese and smoked salmon
You can even drizzle them with a maple flavored syrup
If feeding a large number of people, put out a number of toppings and spreads and let guests prepare their own plate for a fun and interactive crepe buffet!
How to Make Crepes with the Ergo Spout®
Equipment
Blender

Crepe pan or small skillet

Ergo Spout

Quart mason jar
Ingredients
1 ¼

cup

all purpose flour

1 ⅓

cup

cup milk

2

large eggs

¼

t.

salt

4

T,

melted butter

1

t.

vanilla
Instructions
Blend all ingredients with a blender.

Pour batter into a mason jar and let rest for 30 minutes.

Attach an Ergo Spout® to the mason jar and pour small amount of batter on either a skillet or flat crepe pan.

Thin batter on pan into a circle by either twisting a crepe spreader on top or tilting the pan.

Cook until golden brown. Flip and cook until the other side is the same.