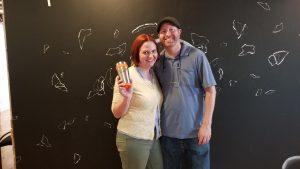 Hi. We are Bryce and Kate, a husband and wife team passionate about product design and innovation. We are the proud parents of three kids – 2 boys and a girl. We live in the suburbs of Salt Lake City, Utah where we have backyard chickens and a bee hive.
Bryce has a a background in technology commercialization and Kate is an attorney who loves to cook.
We started Culinesco with one product – the Ergo Spout® – which we launched on Kickstarter on July 2, 2018. We met our initial funding goal of $10,000 in 14 hours! We went on to raise over $40,000 from over 1,000 backers. We used the funds from the Kickstarter to manufacture and deliver the Ergo Spout®.
We look forward to growing our business by adding products our customers love.