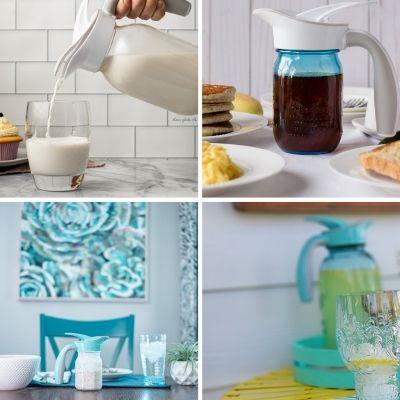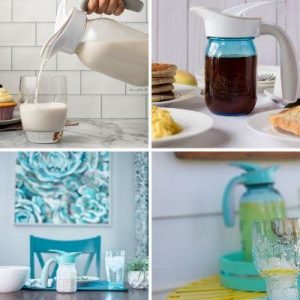 There's a kitchen gadget for practically every purpose; avocado slicers, melon ballers—you name it. When we dreamed up Ergo Spout®, we wanted to bring you a totally unique culinary accessory for your kitchen and table. We achieved that! Here are the reasons why the Ergo Spout® is one of the best mason jar accessories on the market.
The Ergo Spout® is the first ergonomic spout and handle for your new or vintage mason jars. The patented design makes it easy to screw onto mason jars transforming them into mess-free syrup dispensers and/or pitchers. That's just one of the unique design elements you'll notice. Here are 11 features that make the Ergo Spout® one-of-a-kind and an essential serving piece for your home.
1. PATENTED ERGONOMIC HANDLE
Plastic ergonomic handles are unusual because they are difficult to manufacture. Creating a comfortable, custom-fit grip can be challenging. The Ergo Spout® changes that. We've cut no corner to create a patented design that molds to your hand for easy pouring and handling. Now, you can enjoy your favorite syrups, sauces, dressings, and beverages with ease and style. It's a difference you can feel and see.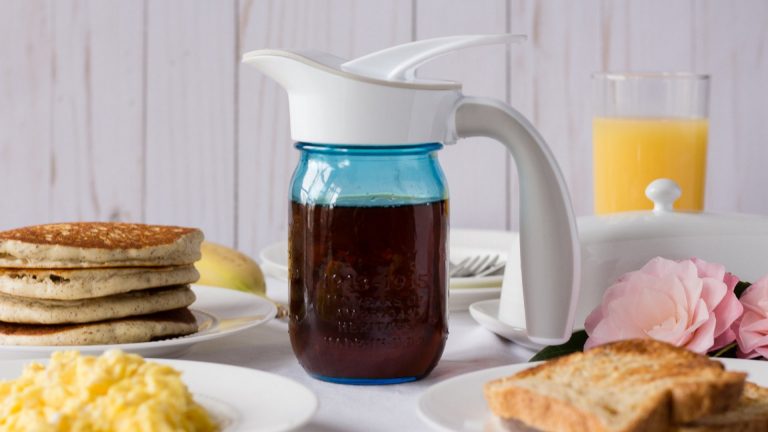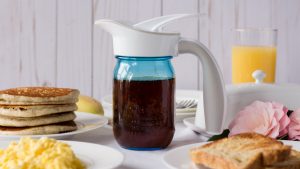 2. FLIP-TOP COVER
The thoughtfully engineered flip-top cover allows you to use the Ergo Spout® one-handed. Rest your thumb on the cushy pad to securely hold on when your hands are slippery from cooking or putting on suntan lotion by the pool. While our mason jar cover doesn't promise an absolutely airtight seal, it will keep out debris and creepy crawlies when kept on the kitchen table or used outside. We've also crafted a mason jar fruit fly trap if pesky bugs are a nuisance in your kitchen.
3. GASKET FOR LEAK AND SPILL-PROOF POURING
The Ergo Spout® is a three-piece system. Why? For convenient cleaning and performance. Thanks to the tightly sealed gasket, you can pour syrups, dressings, or other liquids without making a mess. It'll continue to look clean and tidy on your table as your guests pass around syrups, drinks, and more.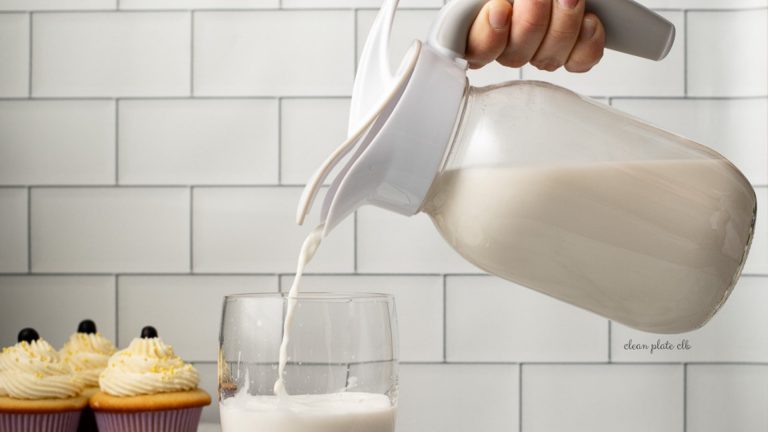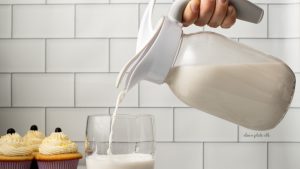 4. SPOUT DESIGNED FOR REDUCED DRIPPING
Raise your hand if you've used a syrup dispenser at a diner. What comes to mind? A sticky, drippy, mess. The Ergo Spout® ensures those drizzles of maple syrup land on your pancakes—not your hands, pristine table cloth, or other foods on your plate. The same goes for dressings on salads, sauces on plates, and drinks into glasses. Contents always slide back into the container, not down the side of the glass. Dining and cooking are so much better when clean-up is a breeze.
5. MULTI-PURPOSE SERVING PIECE
The Ergo Spout® is a multi-purpose serving piece for your kitchen. Bring the Ergo Spout® on a picnic to dispense lemonade. Carry it out to your grill to pour marinades and barbecue sauces on sizzling meats and veggies. Use it on a bedside table for water to keep guests refreshed. Whatever's clever. Multi-purpose also means this piece is a crowd pleaser and a great gift for cooks and entertainers.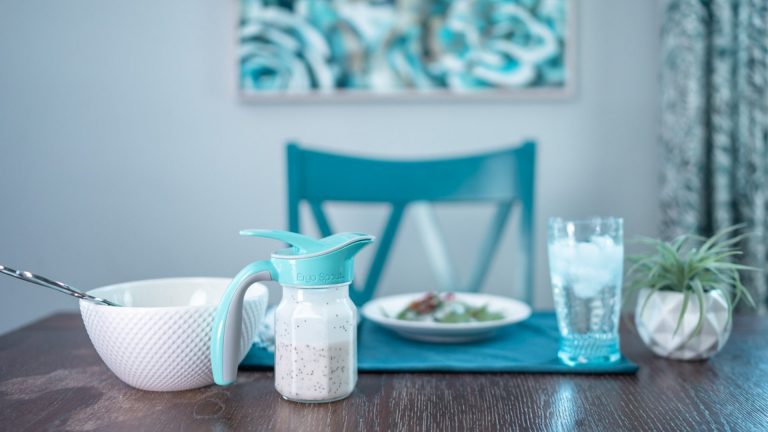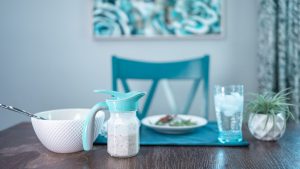 6. FITS REGULAR MOUTH MASON JARS
We're working on a large mouth mason jar accessory , but for now, the Ergo Spout® is compatible with all regular sized mason jars. Whether you have a pint, quart, or half gallon mason jar, just screw on your Ergo Spout® and you'll be ready to cook, serve, and bake in style. This universal fit spares you from having to do unnecessary dishes; you can transfer your Ergo Spout® from a honey jar to dressings, iced teas, and sauces after a quick rinse.
7. DISHWASHER, MICROWAVE, AND REFRIGERATOR SAFE
Some like it hot—syrup, marinades, and sauces that is. The Ergo Spout® transitions from counter to microwave back to tabletop perfectly. Then, if it needs a deep clean, unscrew it from your mason jar and pop the whole thing into the dishwasher. Easy peasy. The Ergo Spout® is made of 100% BPA-free plastic without any metal, so it's rust-free and safe for your home and family. Use your Ergo Spout® mason jar pitcher for special occasions, or keep it in the fridge for easy access.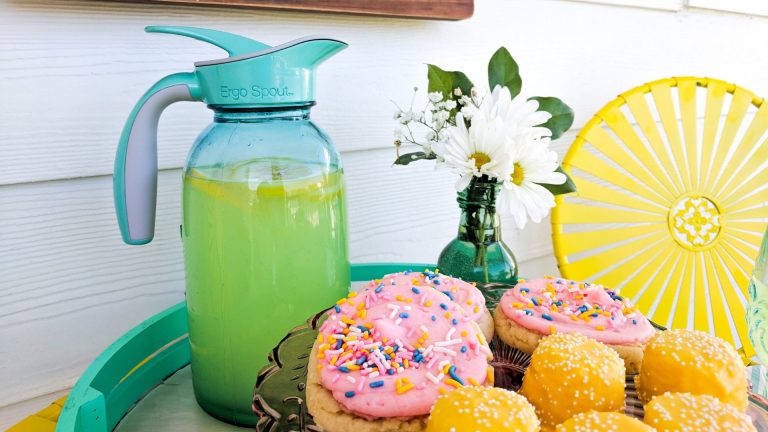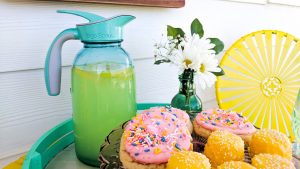 8. STRONG POLYPROPYLENE CONSTRUCTION THAT'S PHTHALATES AND BPA-FREE
Why do people love mason jars? Because they're glass, easy to clean, chemical-free, and timeless. We created a BPA-free product that complements the mason jar, so you never have to worry about harmful additives or chemicals. Plus, this spout is strong. The memory plastic hinge is virtually impossible to break (unless you use extreme Hulk force, of course). The handle prevents it from bending passed its breaking point, and it will return to a closed position after use.
9. NOT A SINGLE USE PLASTIC
The Ergo Spout® is ideal for eco-conscious individuals who want to ditch single-use plastics. Go fill up your mason jars at your favorite bulk food store, or make your own dressings, syrups, and more at home. Then, wash and reuse your Ergo Spout® for years to come. No plastic bottles or wasteful products necessary.
10. RECYCLABLE
We're confident you won't ever want to part with your Ergo Spout®. But if a time comes when you do, it's recyclable.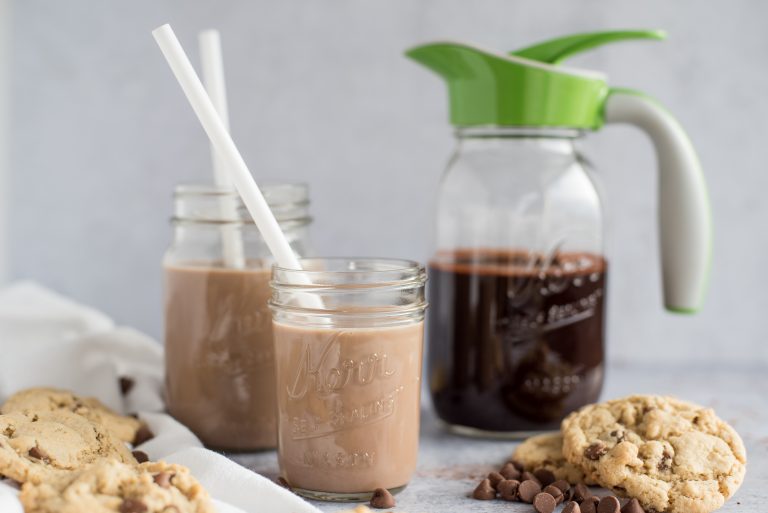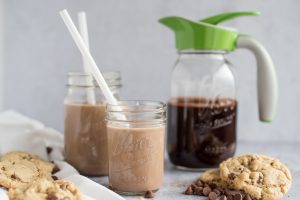 11. CLASSIC COLOR CHOICES
Serving pieces should represent your style and personality. The Ergo Spout® syrup dispenser comes in vintage blue, foliage green, classic white, and barn red. Whether you're shopping for a bridal shower, birthday gift, or yourself, you'll find an Ergo Spout® everyone will love. Mix and match or bring home a few in the same color. When paired with different sized mason jars on the breakfast table—for orange juice, syrup, and honey—the Ergo Spout® makes an Instagram-worthy display. The same goes for syrups, liquors, and mixers on your bar, or with sauces on a DIY serving station at a backyard barbecue.
Our patented Ergo Spout® is an ingenious kitchen accessory for avid bakers, entertainers, cooks, and foodies. As you transfer it from sauces to honey to dressings and more, you'll find a new favorite companion for your mason jars and one of the best mason jar accessories on the market. If you'd like to discover more kitchen gadgets like a mason jar sprouting kit or canning jar funnel and filter, shop now.